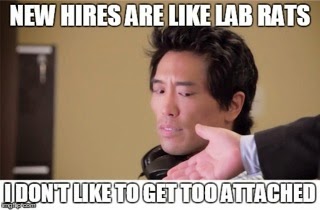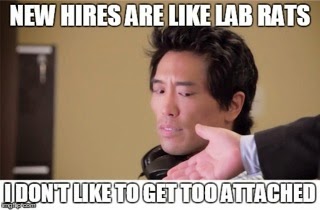 Re-Engineering Employee Onboarding at StartUps: 12 Tips
The battle for talent has been ongoing, fierce and intense: waged to attract and hire the best new hires for startups. Entrepreneurs are so focused on strategies to lure the right people in the door, that there's little bandwidth left to think through "what's next"

—

how to make the new hire's early experience productive and memorable.
To counter-balance: a new web-series, The Startup, viewable on Funny or Die [www.funnyordie.com] is a humorous playbook at what NOT TO DO with new hires. The 2nd episode premiered Feb. 10, 2015. Check out this hilarious cautionary-tale, at: http://bit.ly/TSUEP2
How new hires are treated on Day One sets tone. New hires want to feel welcomed and prized, especially after being so intentionally pursued. Talented employees get calls from recruiters constantly. If new hires suddenly realizes that they're just a cog in the machine, they know that they have other options. Day One

is your best opportunity to tell your startup's story, what you're looking to accomplish, and take the opportunity to validate the new hire's decision to join-up.
Startups hide behind the excuse that they are fast-moving, scrappy, and don't have the time to do things like set up the new hire's desk, let alone take them to lunch the first day. If you believe that, it sends the message that you can't be bothered.
Too busy is no excuse. You just spent time, energy and resources recruiting the new hire. Your job now is to validate their decision to join your amazing startup. You cultivate that attitude immediately, especially right after the offer letter is signed.
Your startup's onboarding process cannot be an afterthought. It needs to memorable, effective, coherent, culturally-aligned, fun and productive.
Here are tips to re-imagine onboarding as a strategic tool, to optimize your

new hire's first experience, and cement the employee-employer relationship.
Tip #1: Annoint Someone to Own Onboarding
Onboarding needs to be owned by a dedicated resource

— whether it's a consultant, office manager, or head of human resources (HR). This doesn't mean you hire a full-time, dedicated in-house HR manager nor department. Look for nimble employees that can wear multiple hats: usually someone with HR experience who can also do office manager work (rather than the other way around). See Sidebar 2 at the end of this article, HR & the Employee LifeCycle.
Tip #2: Have an Onboarding Playbook
You should not be re-inventing the wheel with each new hire. HR/Operations not only owns the process, but they have documented the process.
Each company should have an organized, specific system in place to make the onboarding process go smoothly, and be replicatable. The playbook should include checklists (such as setting up the new hire's desk; day one schedule, etc.) and standard operating procedures.
Tip #3: Keep It Brief But Not Too Brief
You need to strike a balance between giving onboarding short-shrift (a very bad thing) with over-doing it (even worse). I've been at companies that dedicate an entire 8 hours to onboarding, 6 hours of which were eaten up by new hires being forced to watch HR Compliance Video Modules on sexual harassment and safety.
A new hire orientation should take about 2-3 hours.
Tip #4: Paperwork, Schmakerwork
Don't eat up your precious onboarding time with having the new hire fill out a bunch of paperwork. Strike a balance on what you need to see signed in-person, from an HR Compliance standpoint, to what can be completed ahead of time.
HR should send the paperwork in advance; and let new hires know what to bring on Day One [like, 2 forms of identification]. Send new hires a Congratulatory Welcome Basket after the offer letter is signed, filled with goodies and all that paperwork that needs to be handed in on Day One. It will save time, and help you to focus on making day one more memorable. These signed and acknowledged documents to hand off to HR can include but are not limited to:
·
Confidentiality Agreement/NDA
·
Travel and Expense Guidelines
·
Culture & Values/Mission
·
Health & Insurance Enrollment
Tip #5: Ready. Set-Up. Go!
Make sure their desk is ready and set up; and that they have all the tools they need — go the extra mile. It's one thing to have a computer waiting for you. It's another to have all the right software installed. Include a handwritten welcome note from their manager,
fun office supplies
, and some cool SWAG: a company T-shirt (make sure it's the right size), or a coffee mug. [again, take a look at the checklist, Sidebar 1, Day One Checklist].
Tip #6: Late Start Monday
Be different: don't have your new hire start their first day at 9 a.m.
— have them come at 11. The time cushion gives you or your HR manager the opportunity to get in, have coffee, check email, and double-check that everything is set up for the new hire's first day. By the time it's 11 a.m., you can give your new hire your full attention, help them get the paperwork out of the way, and introduce them to the team.
Tip #7: Don't Delegate Hospitality
Have the new hire's manager show them around and make introductions. Everyone should know the new person is starting and should proactively walk up to greet them. These introductions should be purposeful, and give the new hire context on what the staff member does, how they fit into the organization. Everyone should know to say, "Hi, my name is Jim. I work in marketing and am responsible for X." (Not just "I'm Jim, I sit right here.") You want to give your new hire pieces of a puzzle that will fit together to create the big picture: so that they understand the team and how they work collaboratively.
Tip #8: On Boarding Version 2.0: Make It Fun, Make It Memorable
The new hire's first day should be a blend of the pragmatic and the "fun" – a unique twist that captures the flavor and quirks of your startup's culture. Here are suggestions on how to make the welcome aboard memorable:
Start With The "Why" & Connect with the Core Mission
Teach your new hire about your mission and core values. It's easy for a new hire to get tunnel vision around learning the tasks of their job, and in doing so, lose sight of where they fit into the vision of the company.
S
tay connected to your mission. Have the new hire experience what, for instance, your customers receive after making the decision to use your product/service.
Hold A Company-Wide Lunch
Buy lunch for the whole team on their first day. Lunch together allows the new person to meet everyone in an informal manner and share a more about themselves.
It allows them an opportunity to identify people with who they share common interests. By the end of the day, the newly hired employee feels like they know everyone and the dread of meeting new co-workers has vanished.
You should know what the new hire's the first six weeks will look like before they even get there. What do you want them to accomplish in the first 90 days? You should already have this in mind so that if they aren't a perfect fit, you know by that 90th day, not the 900th day. This roadmap should be written down for them, with any meetings already on their calendar.
Tip #10: Keep the First Day Light
Very few people get a good night's sleep before starting a new job, so be mindful of that. You can have introductory meetings planned, but remember there's a lot of information coming at the new hire, and it's hard to take in everything. Even the most confident, 'I'll jump right in' hire is learning new names and faces. Set the expectation: 'This first week you should not be here past 5 p.m. Your job is to be a sponge. We want you to have time to ask questions, reflect and recharge before coming back every day.'
Even if you managed expectations about the long, grueling work-hours during the interview process, and the candidate agreed to them

— don't make that the first-week norm. New hires pick up on so many social cues when they start a new job. Be sensitive to the sensory overload.
Tip #11: Code Breakers: De-Code the Vernacular
Every startup has its own language, its unique short-hand, which can be alienating for someone new. Part of your onboarding should loop in the new hire on the insider language. Don't let a new hire feel like an outsider. Develop a Top 10 Glossary List or Cheat-Sheet on the language and short-hand that's typical of your startup.
The new hire's manager should be available and interruptible in the first several weeks. The new hire can maintain a list of questions that can be addressed during a regular, pre-scheduled weekly meeting but that manager also should be available to answer anything pressing. Keep the dialogue flowing, keep the door wide open.
Each component of the onboarding process with new hires is important, and starts before they begin their job. Onboarding helps your new hire to navigate their first day, and paves the way to the successful completion of their first week, first month, first year and beyond. T
he ultimate payoff is to increased employee retention, and will encourage workers to stay with an organization for the long haul.
SIDEBAR 1: Day One Checklist
Here's a list of things you should have ready on Day One, when your new hire walks in the door:
·
Send out an pre- Day One staff e-mail, so everyone knows who you hired, what they've been hired to do, and include a mini bio of the new hire, for context – in short: have staff prepared to welcome the new hire, know who they are; and understand the new hire's part in moving your startup forward
·
Get stuff ready, to include
o
security badge or pass-key
o
name plate on his or her desk or office door as a tangible sign that you've prepared the space.
o
Business cards printed, stacked, and waiting.
o
Set up the computer. Make sure it's ready with all the right software installed; and provide guides for any necessary software he or she will be using.
o
Configure the new employee's e-mail accounts.
·
Set up his or her phone system, and provide instructions for using voicemail.
Here's a list of questions you should answer proactively for the new employee:
·
What should he or she bring? (Telling them to bring two forms of ID to verify paperwork is a good idea.)
·
Where can he or she park?
·
Who should he or she ask for in the lobby?
·
Where are the restrooms?
·
Where is the copy machine? (And how does it work?)
·
Where is the cafeteria; or where are good places to eat that are close-by (nice idea to have this captured electronically or as a hand-out)
·
Who should the employee talk with if he or she has additional questions? (It's a good idea to assign a co-worker or a hiring manager as a mentor, to be the go-to person, and check-in with the new hire)
SIDEBAR 2: HR & the Employee LifeCycle
Most startups don't have or don't need a full-time HR manager. But you need to have somebody with this expertise.
If you're working with an HR/Operations professional on contract or part-time basis, you want to start early in developing tools/processes/standards that support the entire "employee life cycle": interviewing to hiring to onboarding to offboarding. It's good to start thinking about this early on. For example, it's challenging for an HR/Operations Consultant to help you navigate off-boarding/firing someone if the Consultant is coming into the organization cold, and hasn't already established a relationship with you. No company escapes having tough conversations with staff; you'll eventually need to address low performance or the possibility of letting someone go. It's hard to do those things solo without a sounding board, especially a sounding board you can trust to give their honest opinion. That's a major reason you should seek out a constructive HR relationship early, while you're still small. In short: it's a lot easier to build trust and understanding with an HR person when you're talking about defining culture and onboarding. The last thing you want to do is bring them in when you're desperate and in trouble.