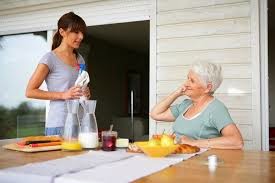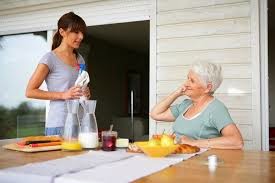 Spring Cleaning: 8 Tips for Seniors & Their Caregivers
I enjoy the spring more than the autumn now. One does, I think, as one gets older."
― Virginia Woolf, Jacob's Room
Back when I was growing up, Spring Cleaning was an "all-hands-on-deck" family affair: scrubbing every surface of the house to remove cobwebs, dust bunnies and grime; endless vacuuming of all dusty furniture; laundering curtains; and getting rid of clutter.
Today, while we all look to clever "life-hacks" to short-cut cleaning in our hectic, over-scheduled lives, the annual tradition of spring cleaning remains. It's an especially important routine in homes where seniors may no longer be able to keep up with regular housekeeping chores.
For these seniors, deep cleaning is more than just an annual ritual — it can improve safety at home; give a boost to health; provide a calming effect; and deliver a sense of empowerment."
If your senior loved one's home could use a good spring cleaning, here are 8 Tips to get it done.
1. Make a checklist.
Write down everything you and your senior loved one would like to get done. Tasks may include washing windows and curtains, wiping out the refrigerator, scrubbing the floor, etc. Be sure to include the following tasks to reduce senior safety hazards:
Clean out the medicine cabinet and dispose of expired medications or those no longer prescribed
Clean out the refrigerator, freezer & pantry; and throw away any expired food
Get rid of throw-rugs to eliminate tripping hazards
Replace batteries in smoke detectors and carbon monoxide detectors
Remove clutter from walkways
Replace light bulbs if necessary and ensure rooms and hallways are adequately lit
Consider installing grab bars in the bathroom
2. Schedule it.
Just like a doctor's appointment or other important commitment, block off time in your schedule that you can devote to spring cleaning. You may want to knock everything out in one weekend, or you may want to take it one chore at a time over several weeks, fitting it in when you have time. Either way, consider it time well invested with your loved one.
3. Enlist help.
A complete home cleaning can be intimidating for seniors, who may feel that poor eyesight or other limiting health conditions could put their safety at risk
. Make it a family affair. If you can't convince family members to lend a hand and you have the financial resources, consider hiring help, such as a professional cleaning service [one that comes highly recommended and trusted], an eager high school student who you can pay hourly. For a longer-term solution, consider hiring a professional caregiver, who can assist with light housekeeping tasks such as laundry, dusting, vacuuming and other duties.
4. Engage your senior loved one.
No one likes feeling useless, so keep your loved one engaged, despite any limitations. If your senior family member has trouble getting around, have them sit and go through paperwork or polish silverware while your family takes care of the heavy lifting.
5. De-clutter, then clean.
In addition to eliminating a year's worth of dust and grime, spring cleaning is a time to get organized. For seniors planning to move to a senior living residence, spring cleaning can be a time to sort through belongings to determine what can be donated or recycled. Reducing clutter makes the living space safer and more enjoyable, and it makes a move much easier when the time comes.
Seniors who have accumulated a lifetime of belongings often have so much stuff that it clutters the house and makes it difficult to clean, much less live safely in. Don't just clean around the piles—tackle them first. But, be careful not to get trash-happy

[i]

.
Sidebar: Professional organizer Barbara Reich's Rules for De-Cluttering & Organizing[ii]
1. Do the most distasteful task first. Tackle your "hot spot," the place that drives you the most crazy, before you try to clear out anyplace else. Your angst will diminish, and you'll be much more motivated to continue.
2. Stick to routines. Do things the same way every time: Put your purse in one place, your keys in one place. When you need them, there they'll be.
3. Store like with like. Having multiple storage locations for supplies such as lightbulbs breeds a chaotic environment.
4. Get it off the floor. The floor is not a storage option. Boxes that reside there permanently create visual clutter. Stow belongings behind cabinet doors to make a room more serene.
5. Make a decision and act on it. When decluttering, don't look at something, ponder it and put it in a stack for later. If you hate that lamp, why would you put it in your closet? You hate it, so get rid of it.
6. Re-Organize.
Organization is key. Having things within arms reach increases safety, and can help to prevents the threat of injury. Take a step back and look at how things are placed around the house. Re-think the way the kitchen, garage, bathroom or the closet is set up. Make sure important paperwork, kitchen utensils, food in the refrigerator, their bedroom and bathrooms are set up for easy access. that way seniors are less likely to have trouble with the things they use most. Having things effortlessly at-hand makes daily tasks much easier.
7.
First Aid & Emergency/Disaster Preparedness. Not only should you periodically check your senior's smoke alarm and carbon monoxide detectors to make sure the batteries haven't expired; it's also important to run a test to ensure that these emergency alert systems are functional. Also ensure that your senior loved one's home is equipped with at least two hand-held fire extinguishers, including one in the kitchen. Check the expiration date to make sure the fire extinguisher hasn't expired. First Aid Kits and Emergency/Disaster Preparedness Kits and also should be assessed for any expired and/or depleted materials:
·
For more information on what to include in an Emergency/Disaster Preparedness kit, visit the American Red Cross, website http://www.redcross.org/prepare/location/home-family/get-kit
8. Re-Evaluate.
Be sure to address any problems you may uncover while cleaning. If you discover your loved one has piles of unopened mail or unpaid bills, expired food in the refrigerator or pantry; or hasn't been cleaning up after the pets,
it might be a sign of serious health issues. Make sure your loved one is bathing regularly, wearing clean clothes, and generally maintaining themselves properly. If you find signs that they are no longer capable of performing these daily tasks, it might be time to look into getting them home healthcare, and/or start a conversation about alternative living arrangements, such as a long-term care facility and/or assisted living. (This takes careful, thoughtful advanced financial planning. Seek expert advice!)
Spring cleaning can be a time to re-fresh. The goal of Spring Cleaning isn't perfection. You won't and probably shouldn't transition your senior's home into a picture-perfect,

Martha Stewart

-esque icon of Good Housekeeping. But when your senior's home is clean and safely-organized, both you & they will feel be calmer, healthier, happier.
---
[i]
See article, "10 Reasons Seniors Hang Onto Stuff" to better understand the reasons why, and how to navigate this often-challenging issue:

http://www.caregiverstress.com/aging-issues/senior-hoarding/10-reasons-seniors-keep-stuff/
[ii]
SOURCE: Dunn, Jancee, "Declutter Your Life — Now!"(AARP Magazine: August/September 2014), see link for full article: AARP http://www.aarp.org/home-family/your-home/info-2014/declutter-tips-for-home.4.html