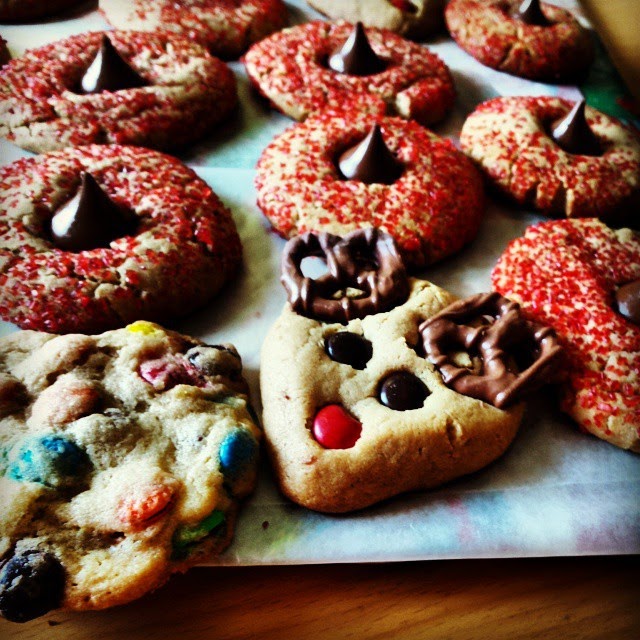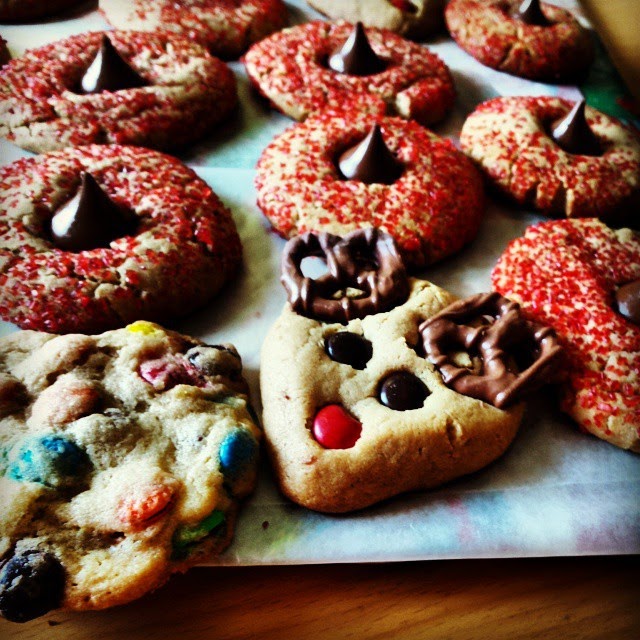 My Three (Currently) Favorite Holiday Cookies!
When it comes to holiday cookies, almost every one has a favorite–whether it's gingerbread ninjas, a gourmet Belgium chocolate-infused truffle concoction, the humble, classic sugar cookie cut-outs; or a beloved family secret-recipe, passed down through the generations. I've definitely baked and eaten my share of holiday cookies over the years; and it seems once I start baking holiday cookies, I never stop adding new recipes to my collection. It's like eating cookies. You start with one, then the next…and can't stop.
My top three (3) favorite holiday season cookie recipes are:
·

1.

Reindeer Peanut Butter Cookies
·

2.

Chocolate Kiss Peanut Butter Cookies
·

3.

M&M Chocolate Chip Cookies
Reindeer Peanut Butter Cookies
1 1/4 cup firmly packed brown sugar
1 3/4 cup all-purpose flour
Chocolate-covered mini pretzels
Combine brown sugar, peanut butter, shortening, milk, and vanilla in large bowl. Beat at medium speed until well blended. Add egg; beat until just blended.
In a separate bowl, combine flour, baking soda, and salt. Add to creamed mixture at low speed. Mix just until blended.
Form dough into 1-inch balls. To make reindeer-shaped cookies, pinch the bottom of the ball slightly to form a point, then gently flatten with your hand. Space cookies about 2 inches apart on a greased cookie sheet and bake for 7 to 8 minutes, until set or just beginning to brown.
Remove from oven and immediately (and gently) press two mini pretzels into the tops of the cookies for the reindeer's antlers. Press two mini brown M&Ms in for the eyes and one red M&M for the nose (or any other color… some of mine ended up with green noses. They might be South Pole reindeer.).
Allow to cool 2 minutes on the baking sheet and then transfer to a wire rack or paper towel to cool completely.
Makes about 40 reindeer cookies.
Peanut Butter Chocolate Kiss Cookies
2 1/2 cups smooth (creamy) peanut butter
1 1/2 cups firmly packed light brown sugar
1 teaspoon baking soda
2 large eggs
2 teaspoons vanilla extract
sugar for rolling (*see tips below)
Hershey's Chocolate Kisses, unwrapped
1. Preheat oven to 350 degrees F. Line cookie sheets with parchment or nonstick baking liners. Make room in either freezer (preferred) or refrigerator for cookie sheets (*see step 4).
2. In a large bowl, use a hand mixer at medium speed to beat peanut butter, brown sugar and baking soda until well blended (about 1 minute). Add eggs and vanilla and mix on low speed until just blended.
3. Scoop out about 1 1/2 Tablespoon scoops and roll into 1 1/2-inch balls. Roll into sugar and place about 2-inches apart on cookie sheet.
4. Bake until cookies are puffed and crackled but still a little bit moist looking, 11 to 13 minutes. As soon as you remove the cookie sheet from the oven, press a chocolate kiss into the center of each cookie. Immediately place cookie sheet into the freezer (or refrigerator) to set the kisses (they'll begin
to melt a bit as soon as you place them on the cookie). Remove from chill as soon as kisses are set.
*For rolling sugar… I think it looks best if you use chunky sparkling sugar, but you can certainly use regular sugar too. If you're making these as holiday cookies, roll them in red and green sugars for a more festive look!
*These cookies may be stored at room temperature in a covered container for up to a week. They may also be frozen and defrosted when you're ready to eat them. They should be just fine in the freezer for a few weeks, as long as they're stored in a sealed container.
*The texture of these is a little softer than the

classic Kiss cookie recipe

. These are great for a platter, but they wouldn't package and mail very well.
M&M Chocolate Chip Cookies
2 1/4 cups all-purpose flour
1 cup (2 sticks) unsalted butter, room temperature
1 cup packed light-brown sugar
2 teaspoons pure vanilla extract
2 cups (about 12 ounces) semisweet and/or milk chocolate chips
·
Preheat oven to 350 degrees.
·
In a small bowl, whisk together the flour and baking soda; set aside. In the bowl of an electric mixer fitted with the paddle attachment, combine the butter with both sugars; beat on medium speed until light and fluffy.
·
Reduce speed to low; add the salt, vanilla, and eggs.
·
Beat until well mixed, about 1 minute.
·
Add flour mixture; mix until just combined. Stir in the chocolate chips & M&M's
·
Drop heaping tablespoon-size balls of dough about 2 inches apart on baking sheets [can be lined with parchment paper].

Bake until cookies are golden around the edges, but still soft in the center, 8 to 10 minutes.
Remove from oven, and let cool on baking sheet 1 to 2 minutes.
Transfer to a wire rack, and let cool completely.
Store cookies in an airtight container at room temperature up to 1 week.